BIOGRAPHY
George William Spencer was born on October 7, 1829 in West Hartford, Hartford County, Connecticut.

After George and Emily married, they decided to go to the California gold fields with George's brother-in-law. When they got to Fort Laramie, George and his brother-in-law decided to go through Salt Lake City. Some time after leaving Fort Laramie, one of their cow's became lame. George and Emily stayed behind in Salt Lake City for the winter, leaving the brother-in-law to go on to California alone. While in Salt Lake City, George and Emily learned about the Church of Jesus Christ of Latter-Day-Saints. They were soon baptized.

Based in the births of the children, we can get some idea of their travels:
Emily
Julia
Mary
George
Harriet
Joseph
Moses
Colima
Samuel
Elizabeth
Lucy
Seymour
Franklin
Jerusha
Debra
Frank
Ida
Almaretta
Heber
John
Lydia
04/25/1854
05/06/1856
08/21/1857
03/26/1858
04/04/1859
06/13/1859
12/25/1859
12/21/1860
02/10/1861
03/19/1861
02/16/1863
03/02/1863
06/25/1863
03/01/1865
04/07/1865
08/02/1865
05/07/1867
07/05/1868
07/13/1868
08/29/1870
01/02/1871
Nephi
Nephi
Washington
Washington
Washington
Washington
Manti
Moroni
Moroni
Moroni
Moroni
Moroni
Moroni
Moroni
Moroni
Washington
Pine Valley
St. George
Washington
St. George
Washington

George was qualified to teach because of his schooling and ability. Around 1869, he taught advanced or special courses in the basement of the St. George Tabernacle.

In 1871, Brigham Young sent George to Kane County, eight miles from Glendale, to start a cheese factory.

In April of 1872, George went to Glendale to pickup supplies with an older gentleman. Coming back through a ravine, they were caught in a sudden cold spring storm. George gave his coat to his companion, who was very cold. Because of his kindness, George developed pneumonia and died on Apr 12, 1872. He was laid to rest in a field near Glendale. Later when a cemetery was established in Glendale, no relative or friend was there to request his remains be moved to it, so his grave was left in the field, unmarked.

Many years later, a headstone for him was placed in the Glendale Cemetery. He was the first death in Glendale, Utah.



FAMILY
Parents and Siblings:
Moses Roswell Spencer
Alma Flagg Spencer
Seymour Mills Spencer
Flavel Spencer
Almira Spencer
Mary Pluma Spencer
Harriet Spencer
Faith Ann Spencer
Samuel Moses Spencer
Franklin Spencer
George William Spencer

(1/6/1789-9/23/1860) (married 5/1/1811)
(3/15/1789-1/17/1854)
(3/27/1812-4/30/1898) (married Ellen S. Dudley)
(11/27/1814-9/30/1879) (married Elizabeth Louisa Ackert )
(7/20/1816-4/1/1901) (married Coley Enouch Betts)
(1/27/1818-5/6/1889) (married Thomas Jefferson Williamson)
(1/1/1820-4/18/1903) (married Joel Kingsbury Scarborough)
(9/5/1821-12/22/1891) (married Jane Elliott)
(2/17/1825-12/9/1903) (married Xxxxxxx X. Xxxxxxxx)
(10/22/1827-1/25/1898) (married Elizabeth Rosena Boyer)
(10/7/1829-4/12/1872) (married as shown below)

First Wife and Children:
Emily Brown Bush Spencer
Emily Spencer
Julia Spencer
George Spencer Jr.
Moses Robert Spencer
Colima Spencer
Franklin Spencer
Flavel "Frank" Young Spencer
Almaretta Spencer
John Taylor Spencer


(6/14/1834-7/3/1906) (married 1/10/1851)
(4/25/1854-11/20/1938) (married John H. Miles)
(5/6/1856-2/1/1895) (married Wilford Woodruff)
(3/26/1858-12/30/1859)
(12/25/1859-2/1/1859)
(12/21/1860-6/19/1866)
(6/25/1863-9/15/1864)
(8/2/1865-4/27/1947) (married Lettia M. Thomas)
(7/5/1868-1/4/1952) (married Andrew Houston Perkins)
(8/29/1870-1/13/1955) (married Eleanor Crihfield)

Second Wife and Children:
Mary Ann Payne Knight Spencer
Mary Ann Spencer
Joseph William Spencer
Elizabeth Almira Spencer
Seymour Spencer
Debra Spencer
Ida Ellen Spencer
Brigham Spencer


(8/23/1841-7/1/1934) (married xx/xx/xxxx)
(8/21/1857-12/23/1925) (married William Hill Swapp)
(6/13/1859-1/10/1925) (married Louisa Artimicie Allen)
(3/19/1861-10/18/1939) (married Reuben Warren Sevy)
(3/2/1863-7/23/1907)
(4/7/1865-9/19/1929) (married John Michael Dunning)
(5/7/1867-1/18/1939) (married John Alma Lee, Jr.)
(xx/xx/1870-xx/xx/1940) (married Effie Sephronie Young)

Third Wife and Children:
Sarah Marinda Thompson Spencer
Harriet Marinda Spencer
Samuel Morley Spencer
Lucy Leah Spencer
Jerusha Irene Spencer
Heber Kimball Spencer
Lydia Spencer


(9/25/1841-7/7/1914) (married 4/2/1858)
(4/4/1859-2/11/1926) (married John Morley Black)
(2/10/1861-8/1/1932) (married Xxxxxxx X. Xxxxxxxx)
(2/16/1863-1/2/1865)
(3/1/1865-2/26/1942) (married Joseph Warren Hancock)
(7/13/1868-1/15/1869)
(1/2/1871-3/11/1921) (married James Fredrick Washburn)
PHOTOS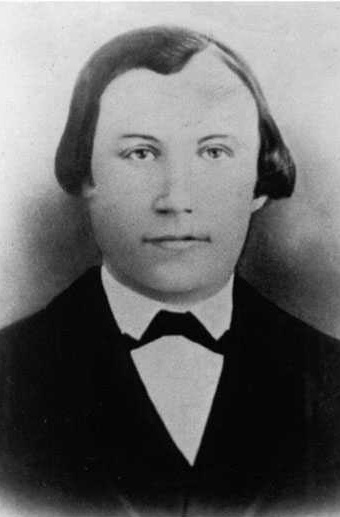 WCHS photos:
WCHS-03435 Photo of the plaque at the Adair Spring with George W. Spencer's name



REFERENCES
George Spencer in the Pioneer Immigrants to Utah Territory

Washington City "Monumbent Plaza", May 10, 2003
See the bottom of Page 27

George & Mary Spencer family in the 1870 Census

Find-A-Grave entry for George Spencer

Find-A-Grave entry for Emily Brown Bush Spencer

Find-A-Grave entry for Mary Ann Payne Knight