BIOGRAPHY
Sarah Emma McAllister was born in Effingham, Illinois on August 20, 1863. She always went by the name,

Emma.

Emma attended the Dixon Illinois Normal University where she earned B.S., M.S., and B.O. degrees.
She earned a B.Pd. degree and two life certificates from the teachers' College of Greely in Colorado.

Emma taught school for 37 years, including 9 years as a principal of a high school. She loved primary work and
spent her final years teaching first grade. She taught first grade at the Woodward School in St. George from
1916 to 1921.

Emma loved to draw & paint and did a lot of art work at the Art Institute of Chicago.

Emma loved poetry and wrote a few poems including:
"Gone" (written on the death of her mother)
"Do You Remember"
"Heavenly Joys" (set to music)
Emma died in Compton, California on March 1, 1941 and was buried on March 3 in the Roosevelt Memorial Park
in Gardena, California.



FAMILY
Emma's Parents and Siblings:
Daniel McAllister
Sarah Jane Turner McAllister
James Henry McAllister
Martha Jane McAllister McAllister
Annie McAllister
Sarah Emma McAllister
William T. McAllister
Margaret Elizabeth McAllister
Robert John McAllister
Henrietta McAllister
Ada Almina McAllister

(2/12/1831-10/17/1910) (married xx/xx/1855)
(7/27/1837-9/26/1897)
(11/25/1856-6/28/1935) (married Mary Charlotte Snook and Mary Kidd)
(2/21/1859-3/5/1909) (married William Stewardson)
(4/11/1861-6/16/1932) (married John Calvin Smoot)
(8/20/1863-3/1/1941)
(1/28/1866-6/8/1924) (married Muriel Edna Snider)
(10/28/1868-3/2/1875) (married Xxxxxxx X. Xxxxxxxx)
(5/3/1870-1/6/1934) (married Margaret Ernst)
(11/28/1873-11/8/1965) (married Henry Harrison Fry)
(12/27/1875-4/20/1931) (married Fred Clinton Stanton)
PHOTOS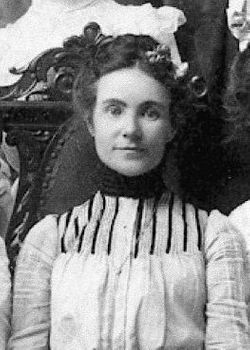 Emma McAllister

WCHS photos:
WCHS-04639 Photo of Emma McAllister with a large group of young band students



REFERENCES
References to Emma McAllister in the Washington County News
Letter of reference from Woodward Principal Edgar M. Jenson, March 26, 1920
FamilySearch entry for Sarah Emma McAllister
Obituary for Sarah Emma McAllister
Find-A-Grave entry for Sarah Emma McAllister