The Red Cliffs Desert Reserve is a Habitat Conservation Plan (HCP) administered by Washington County in coordination with the Bureau of Land Management (BLM), United States Fish and Wildlife Service (FWS), Utah Department of Natural Resources (DNR), and State of Utah School and Institutional Trust Lands Administration (SITLA).

This collaborative partnership has the primary goal of recovering the threatened desert tortoise while carefully managing recreational activities and utility projects in an extraordinarily unique environment that will benefit future generations.



LOCATION
Washington County HCP Administration
10 North 100 East
St. George, UT 84770
(435) 634-5759
http://www.redcliffsdesertreserve.com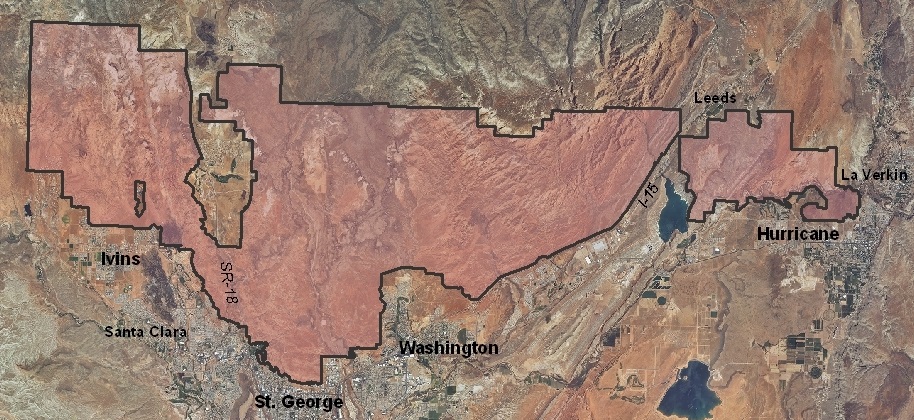 HISTORY
The Red Cliffs Desert Reserve was created in 1996.

The Red Cliffs National Conservation Area is part of the Red Cliffs Desert Reserve and was created as part of the Omnibus Public Land Management Act of 2009.



PHOTOS
TBD



REFERENCES
YouTube video about the Red Cliffs National Conservation Area

Red Cliffs Recreation Area Visitor Guide
Red Cliffs Campground Map
Red Cliffs Recreation Area Map

Red Cliffs National Conservation Area Map

Red Cliffs day; reserve of the ancients, a Mexican village and Harrisburg
by Reuben Wadsworth, St. George News, October 22, 2017

Quarry Blurbs
Notes about the history of the area around the St. George Sandstone Quarry
by Richard Kohler, February 2015 and September 2017
See the 9th page on "Red Cliffs National Conservation Area 2009"

BLM purchases $5 million land parcel in desert tortoise reserve
by Mikayla Shoup, St. George News, August 30, 2019