Willard O. Nisson Park is a city park in Washington, Utah.



LOCATION
251 W. Telegraph St. = 30 South 200 West
Washington, Utah 84780



DESCRIPTION
The park has a water wheel feature, covered pavilion, playground area, basketball hoops, shaded walking path with picnic tables, restrooms, and a large playing field.



HISTORY
The area where the Willard O. Nisson Park now stands was once (late 1800s) Calvin Hall's pasture. Hall turned it into a campground known as Hall's Campground or Camp Washington. He built small wooden cabins and piped in clean water from Hall's Head House on the northeast corner of 200 North and 200 East. This campground was the first place on Washington that had drinking water delivered in a pipe. Hall also had a store located on the southeast corner of 200 West and what is now Telegraph St.

The Antone and LeRoy Nisson families wanted to honor their father, Willard O. Nisson, so they arranged for the building of this park. Through an exchange of properties, this property became available so that Washington City could construct this facility. The park opened in May of 1999.



PHOTOS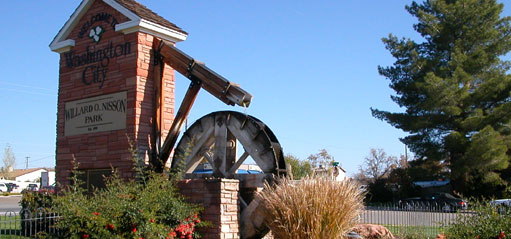 REFERENCES
Washington City: Nisson Park
Washington City marker in the Markers Database