LOCATION
25 E. Telegraph Road
Washington, UT 84780
(435)986-4228

Northeast corner of Telegraph Road & Main Street

37° 7' 50.08" North Latitude, 113° 30' 33.62" West Longitude
37.1306° North Latitude, 113.5093° West Longitude
2,797 feet (853 meters) MSL

Open: 10:00 am - 2:00 pm Monday-Friday, but the times vary
so it is best to call the museum to verify the times of interest.



HOLDINGS
TBD



HISTORY
The building was originally the Washington Elementary School.

The building is currently owned by the City of Washington and the museum is operated by the
Washington City Historical Society.

Normally, the gymnasium can be rented for activities. However it is currently closed due to COVID-19.



PHOTOS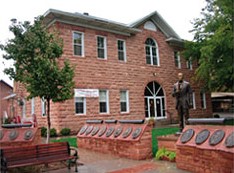 WCHS photos:
WCHS-04238 Photo of the old wagon for ??? liquids in front of the museum



REFERENCES
TBD