The Dixie Round-up is a long time event currently held the second week in September at the historic Sun Bowl
in St. George. The main events are a rodeo and a parade. It is sponsored by the St. George Lions Club and
approved by the Professional Rodeo Cowboy's Association (PRCA).

For more information:
(435)632-2136 Hotline
rodeo@stgeorgelions.com
http://www.stgeorgelions.com
https://www.facebook.com/DixieRoundupRodeo



HISTORY
Prior to the Dixie Round-up, various rodeos were held on the town square south of the Tabernacle and
Woodward School. There were no fences, so wagons and cars were used to delimit the arena.

The Dixie Round-up was started in 1935 as a joint effort of the local American Legion and Lions Clubs.
In 1939, the Lions Club became the sole sponsor.

From 1935 to 1937, these events were held on Armistice Day (November 11) at the old race track in St. George.
They were moved to September starting in 1938.
The first night rodeo was held in 1940 using a professional rodeo production company.
Starting in 1945, the rodeo was sanctioned by the Rodeo Cowboy Association.

The 13th annual Dixie Round-up in 1947 was held in the new Sun Bowl for the first time
and the Sun Bowl has been the home of the Dixie Round-up ever since.



PHOTOS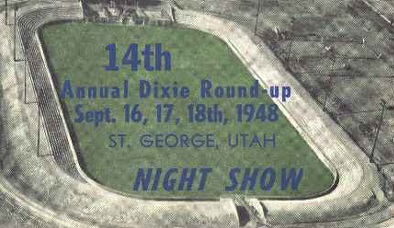 WCHS-00876 The Sun Bowl in 1948



ANNUAL EVENTS
If you have any of the ones we are missing (black text rather than a blue link), we would love to get a
digital copy or scan your paper copy. Please contact webmaster@wchsutah.org.
REFERENCES
Looking Back, A history of the Lions Dixie Roundup
By Lyman Hafen, St. George Magazine, Fall 1984, pp. 19, 20, 27, 80, 82 and 84

Dixie Round-up Key People, 1934-2016
A list of Lions Presidents, Rodeo Chairmen, Queens, Princesses, and Producers

Where the West is Still Wild
Lion (Lions International magazine), September 2015, pp. 29 and 31

Newspaper articles:
Dixie Roundup parade gets morning start; Friday rodeo results
by JJ Deforest, St. George News, September 19, 2015
Dixie Roundup final results
by JJ Deforest, St. George News, September 20, 2015
82nd Lions Dixie Roundup Rodeo kicks up dust in Southern Utah
by Hollie Reina, St. George News, September 12, 2016
Dixie Roundup Rodeo kicks off with glitz, grit and Old Glory
by Hollie Reina, St. George News, September 16, 2016
Dixie Roundup Rodeo opens with a bang; video and photo gallery
by Jeff Richards, St. George News, September 15, 2017
Recently crowned Dixie Roundup royalty keeping busy in preparation for 84th annual rodeo
by Ryan Rees, St. George News, July 10, 2018
Photo gallery: 84th annual Dixie Roundup Rodeo Parade
by Cody Blowers, St. George News, September 15, 2018
Dixie Roundup Rodeo queen and princess chosen
by Jeff Richards, St. George News, May 9, 2019
From roots to cowboy boots, St. George Lions' Dixie Roundup Rodeo set to celebrate 85 years of tradition
by Andrew Pinckney, St. George News, May 9, 2019
'Not just a pretty face,' 2019 Dixie Roundup royalty never back down promoting the sport they love
by Andrew Pinckney, St. George News, September 18, 2019
KONY Coins for Kids president Carl Lamar chosen to be 85th Dixie Roundup Rodeo grand marshal
by Andrew Pinckney, St. George News, September 19, 2019
Photo gallery: Community celebrates at the 85th annual Dixie Roundup Rodeo Parade
by Andrew Pinckney, St. George News, September 22, 2019
Dixie Roundup Rodeo returns with new attractions, honors the rich Western heritage of St. George
by Alexa Morgan, St. George News, September 13, 2021