LOCATION
496 North 400 West (southeast corner of 500 North and 400 West)
St. George, UT 84770

Parcel Number SG-683-A (current lot with the house)
St. George City Survey, Plat A, Block 46, Lot 5 (the original lot is outlined in yellow below)



WCHS-00591 The Millers built a barn and corral on
the fractional block across the street north of the house.
DESCRIPTION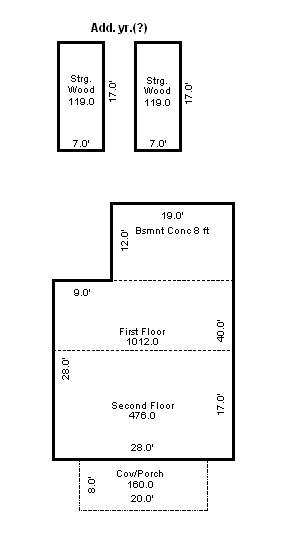 Single family residential

Frame and stucco exterior; Gable roof with composition shingles

1,012 square feet on the main floor, 476 square feet on the second floor, and 228 square feet in the basement

2 bedrooms and 1 bathroom



























HISTORY
This home was built in 1879(?) by William Moody.

Owners: [These are just some working notes and not accurate]
William Moody
William Henry Miller
Fanny Gunn Miller (1883-????)
Addie Price
Alice B. Riding (1912-????,1940-???>,1954-????))
E. Ray Flowers (????-10/12/1984)
Hector J & Judith Spencer (10/12/1984-4/6/1985)
Janet B Davis (4/6/1985-11/17/1993)
Margaret Mayle (11/17/1993-12/10/1997)
Mayle Property Management L C (12/10/1997-11/20/1998)
Steven W. Beckstrom and Jay B. Elggren (11/20/1998-12/21/2004)
Wells Fargo Bank (12/21/2004-3/8/2005)
Claude David & Margaret Codding (3/8/2005-Present)



BIOGRAPHY
Henry Willliam Miller click here.



PHOTOS
REFERENCES
TBD