LOCATION
Virgin, UT



HISTORY
Commentary by Mary Phoenix:
The Isom/Semmens house, directly across the street south from the L.D.S. chapel in Virgin, has never been either renovated or restored and is a very picturesque reminder of life as it was once lived in Dixie.
About 1865 George Isom built the home for his wife, Alice Parker Isom. Parker had fought in the Black Hawk Indian Wars in central Utah and had been wounded in a way that permanently affected his health. He had received a poisoned arrow in the back and had had to leave it there for a day while he rode to find medical help.
The small building at the side was used for a little store to supply the up-the-river settlements with a few necessities. Isom died and left his wife with a young family but she continued to operate the store. In 1907 when the oil boom hit Virgin she turned her home into a hotel and boarding house for the men engaged in the oil business.
For a number of years it remained vacant, only its bay window and tangled lace curtains left to bear witness to its proud past.
Now it stands behind the home of T.J. and Beulah Semmens.



BIOGRAPHY
George Isom TBD

Alice Parker Isom TBD



PHOTOS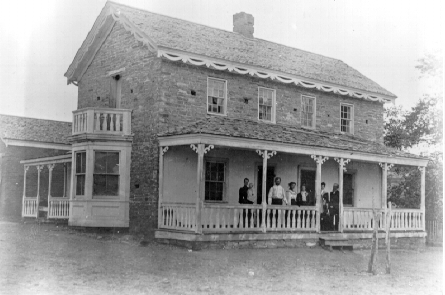 From the J. L. Crawford Collection

WCHS photos:
WCHS-00553 Jon Bowcutt sketch of the Isom/Semmens Home



REFERENCES
Historical Buildings of Washington County (Volume 1), pp. 28-29.