LOCATION
41 N. Main Street
St. George, Utah 84770
(435)673-2471
contact@mcarthurjewelers.com
http://www.mcarthurjewelers.com

Telephone ORchard 3-2471 in the 1958 telephone book (McArthur Jewelers)
Telephone ORchard 3-2471 in the 1961 telephone book (McArthur Jewelers)
Telephone 673-2471 in the 1972 telephone book (McArthur Jewelers)



HISTORY
The idea of McArthur Jewelers was born when World War II had just ended and Tom McArthur was stationed in northern Italy. He went on leave to Switzerland where the clocks and watches intrigued him. He decided to pursue a career in selling and servicing watches and clocks.

Upon Tom's return from the war, he enrolled in a watchmaker's school in Sacramento, California using the "GI Bill". After graduation, he began working for Steadman Jewelers in Murray, Utah.

In 1950, Tom P. & Fae Dalton McArthur moved their little family down to St. George, their home town. They opened McArthur Jewelers on May 4, 1950. The location was on Main street next to the Dixie movie theatre because, he thought, "the people will leave the movie theatre holding hands, they will see my diamond rings tempting them, and she will let him know the one she wants." The store has been at that same location ever since.

The store grew and changed over the years. In 1968 a major addition and remodel added more than double the space.

In 2007, another remodel took out all of the old cases and interior. They put in custom-made wood cases, shadow boxes along the walls, stairs, and a ramp.

Three generations of family have worked at the store. In 1972, Tom & Fae's son, Tom Jr., came on full time moving down from BYU. His dad asked him to come help just for the summer, and as Tom Jr. said, "the summer never ended." In 1983, Tom Jr. and his wife, Allison, contracted to purchase the business and building from the "folks" taking the business to the 2nd generation. Their daughters, Keena, Megan, and Malea worked in the business.

McArthur Jewelers closed in January of 2016. It was acquired my Jeremy M. Young & Megan Hatch Young and the name was changed to Forever Young Fine Jewelers.



PHOTOS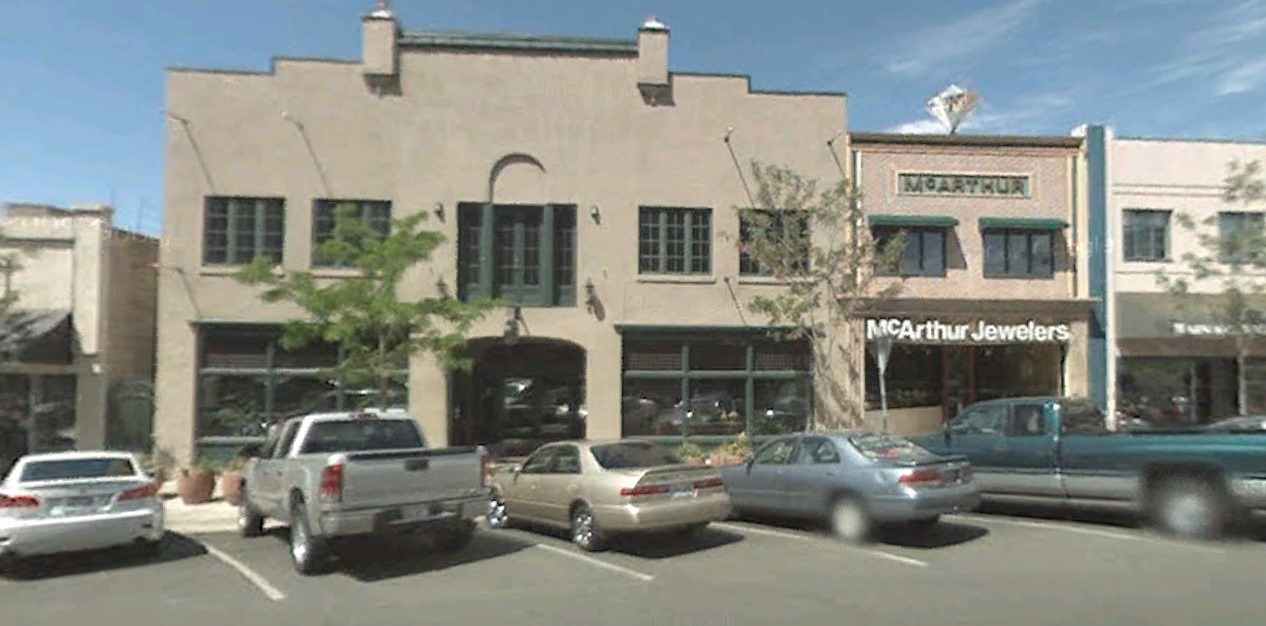 Wadsworth and McArthur Buildings in the early 2000s

Other WCHS photos:
WCHS-01553 Advertisement for McArthur Jewelers
WCHS-01556 Photo of an old display case at McArthur Jewelers
WCHS-01557 Photo of an old display case at McArthur Jewelers
WCHS-01558 Photo of an old display case at McArthur Jewelers



REFERENCES
History of McArthur Jewelers

Couple's secrets to 60 years of happy marriage and long life
by Joseph Witham
St George News, October 21, 2016

McArthur Jewelers closing after 65 years
by David DeMille
The Spectrum, November 17, 2015