LOCATION
30 N. Main Street
Leeds, UT 84746



HISTORY
William Barbee operated a little store called the Barbee Mercantile at the place where Emil Graff later built the Leeds Mercantile.

Emil J. Graff owned different businesses and a large amount of land between Hurricane and Cove Fort. He started the Leed Mercantile.

Walter & Jesse Eagar came to Leeds in the fall of 1928 to become managers of Leeds Mercantile. They stuggled to make a living through the Great Depression and finally gave in up in 1932.

In 1932, Charles & Kate Allen decided to trade their home to E. J. Graff for the Leeds Mercantile. They had living quarters in the back of the store and raised two children there: Alene and Stewart. Kate was the main person running the store until she had a heart attack in 1960 and her health began to fail. Then Alma Weeks ran the store for her. Kate died in September of 1961 and Alma continued running the store.

William & Ethel Lackner bought the store from Charled Allen in April of 1964.

Roger & Marsha Ruesch bougtht the store from the Lackners on March 8, 1971.

Bob & Pat Williams took over the store on November 1, 1973.

Some time later, Rex Marx bought the store from the Williams. They only had the store for about a year.

Veannetta Laub rented the store from Rex Marx. But she couldn't make ends meet, so she also became the Leeds postmistress. The two things turned out to be to much for her, so she gave up the post office. Veannetta moved her little store to the new Carl Howard Shopping Center. Not long after that, she went out of business entirely.

The building is currently used for the Bric-A-Brac Shoppe, a consignment shop for antiques and collectables.



PHOTOS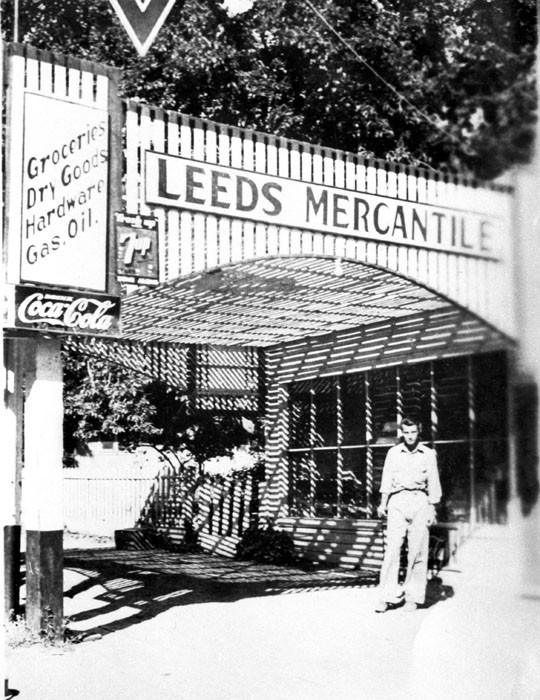 USHS-0008 Leeds Mercantile sometime between 1933 and 1942


Other photos on the web:
A CCC enrollee standing in front of the Leeds Mercantile



REFERENCES
Wilma Cox Beal, "Leeds Historical Event in Bits & Pieces", pp. 2, 49-50 123-124.