LOCATION
TBD



HISTORY
The Air Mail Act of 1925 (Kelly Act) authorized the postmaster general to contract for domestic airmail service with commercial air carriers. It also set airmail rates and the level of cash subsidies to be paid to companies that carried the mail. By transferring airmail operations to private companies, the government effectively would help create the commercial aviation industry. Various routes were designated and contracts for carrying the mail over these routes were then awarded to many different private air service companies. The Contract Air Mail routes became known as CAM's.

Around 1926, the U.S. Postal Service proposed a 650-mile air mail route linking Los Angeles to Salt Lake City and passing through Washington County. It was designated as Contract Air Mail Route 4 (CAM-4).

Western Air Express, Inc., founded by Harris M "Pop" Hanshue in 1925, was awarded a contract to lay out the route and carry the mail.

The first flights in each direction between Salt Lake and Los Angeles with intermediate stops in Las Vegas were made on April 17, 1926. Douglas M-2 biplanes with Liberty engines were used. Charles N. "Jimmy" James piloted from Salt Lake to Las Vegas and Maurice "Maury" Graham piloted from Las Vegas to Los Angeles and back to Las Vegas. Postal mail covers carried on the inaugural flight between each point of landing and take-off are collectible and are known as CAM-4 covers. For an example, click here.

Other pilots flying this route included Al DeGarmo, Fred Kelly, and Corliss Champion "C.C." Mosley.

By 1928, the route had been marked with cement arrows and beacon towers for navigation at night and in inclement weather.

On February 9, 1934, the Post Office Department canceled all contracts of operators flying mail on routes within the U.S. to become effective on February 19, 1934. The reason given by the Post Office was that there was suspicion that the mail carrying contracts had been awarded through collusion during the previous Administration. In the interim, the Army Air Corps was tasked with carrying the mail. New commercial air mail carrying contracts were made in May 1934 and the mail was again flown by private contractors over re-designated revised Post Office Department routes in late June 1934. From late June 1934 to December 29, 1934, Western Air Express operated with the name General Air Lines.



PHOTOS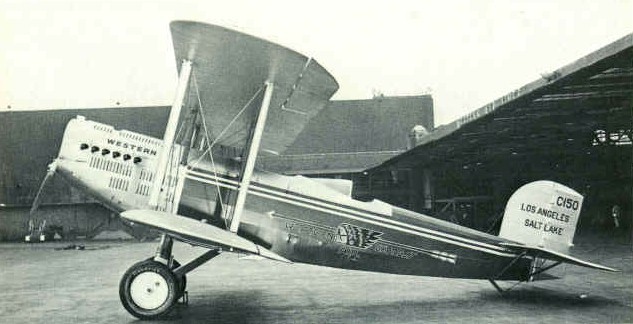 Western Air Express Douglas M-2



REFERENCES
CAM Contract Air Mail First Flights CAM-4

Images of Faith: A Pictorial History of St. George, Utah
by Lynne Clark, 2012
Page 338