LOCATION
The bridge crossed the Virgin River approximately where the River Road Bridge in St. George is now.



DESCRIPTION
One lane.



HISTORY
In 1908, the Midland Bridge Co. of Kansas City was awarded a contract to build a bridge across the Virgin River
south of St. George. The bid was $9,049, $104 less than the other bid. It was to use native lumber, instead of
imported.

When it was finished, the eventual cost came in at $12,056.80. It was originally painted red and called the
Red River Bridge.

By 1985, this bridge was no longer in use.

This bridge was washed away when the Quail Creek Dam failed on January 1, 1989. The new River Road Bridge
was built in 1992 to replace it.



PHOTOS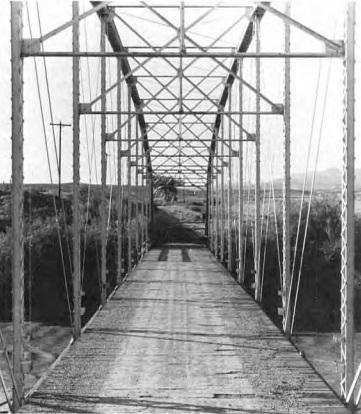 Virgin River Bridge about 1985



REFERENCES
Newspaper clipping from an unknown source in 1908